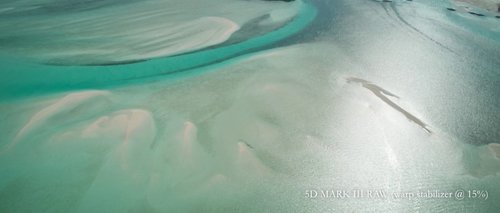 Posted by Ryan Lightbourn on July 6, 2013 •
"NOTES: For more accurate results, hit the 'Download' tab and download 'Original .MOV file'
Stuttering in the lower angle 5D3 shots was from boat vibrations. This is not from the hack and can be fixed with warp stabilizer, but I wanted to keep full resolution in those shots.
Also, the power lines aren't aliasing in the 5D3 footage as some have noted…they are painted with black & white stripes: ryanlightbourn.com/uploads/5d3raw/power_lines.jpg
Shot back & forth between the two cameras on the same day.
Minor grading done in ACR & RCX to match contrast. No sharpness added. Scarlet footage shot in 4k, downscaled 50% to 1080p.
Lenses used: Tokina 11-16mm & Zeiss 25mm 2.8 (both with Formatt 1.2 ND)
My thoughts browsing through the raw footage:"
…
• You may read also cinema5d and nofilmschool
reactions, by Sebastian Wöber and Joe Marine.
See on vimeo.com