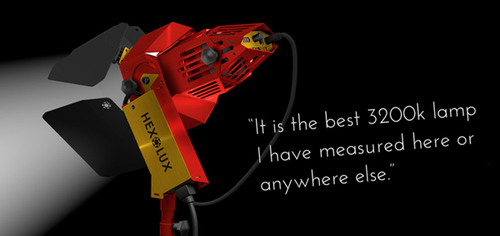 Posted by Hexolux on May 28, 2013 •
"Hexolux™ revolutionary LED Fresnels are the new industry leader with the highest efficiency, highest spectral quality and the highest return-on-investment in the industry. The Hexolux modular system combines innovative features including F-stop dimming™ (a Digital Scrim™), flicker-free, super light-weight, CRI of 98, hand-held battery options, and wireless DMX control via iPhone/ Pad. The Hexolux Xum7 was launched at NAB this year and instantly became a huge hit.
At Cine Gear 2013, Hexolux will introduce the highest CRI Daylight balanced LED Illuminator in the industry. Its an improvement on HMI in every way: efficiency, color rendering, flicker-free, light-weight, lower cost, no heat, modular to create any size source, DMX remote control, and more. Hexolux will also show the Xum7 Indie, an affordable 80W version of the Xum7 Fresnel. Look for Hexolux in the New Products section in the June issue of American Cinematographer.
Greg Moreland of Moreland Lighting brought his Spectrometer to the Hexolux booth at NAB to test the Xum7 and said, "It is the best 3200k lamp I have measured here or anywhere else."
See on hexolux.com