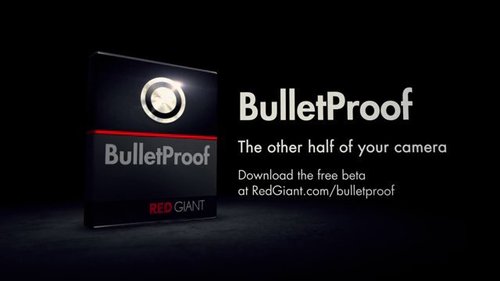 Posted by RedGiantNews on May 21, 2013 •
"Hey folks – we are super proud to present Red Giant BulletProof (Beta) a new on-set solution for Media Prep and Delivery. Best of all – the BulletProof beta is FREE! Download it right now!
What are you downloading?
The greatest thing since sliced bread! OK, maybe not – sliced bread is pretty hard to top , but we think BulletProof is pretty awesome – and we want your help to make it even more awesome by testing it out, contributing feature ideas, and letting us know what works for you and what doesn't.
You'll be downloading Public Beta version 1.
BulletProof is free as beta software until the products full release (and we're aiming for this summer). This version is Mac only, but we fully intend to support windows as the product further develops.
Updates
We will be sending out updates of the Beta as development continues the next few months with bug fixes, performance improvements and UI tweaks. Updated versions will be made available through the Red Giant Link App."
…
Rea and watch more on RedGiant.com
See on vimeo.com