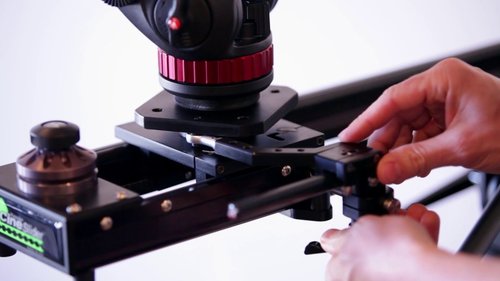 Posted by Eric Kessler on May 2, 2013 •
"After almost 2yr of keeping my mouth shut I am excited to show a sneak peek of the Kessler ParallaX"
"The Kessler Parallax™ system provides automatic panning and fixed-point shooting capabilities to the Kessler line of sliders. Previously only capable with motorized panning devices, Kessler Parallax™ accomplishes inward and outward panning shots, providing users a second axis to their linear movements. The Kessler Parallax's™ non-intrusive design allows users to choose between automatic panning or standard linear sliding without removing the Parallax bar.
Kessler Parallax™ does not require specific measurement calibration and does not have a fixed subject distance requirement to accomplish 2 axis panning and fixed-point linear sliding shots. Capable of manual or motorized control.
Compatible with traveler and standard length Pocket Dolly v2.0 BASIC, Pocket Dolly v2.0, Stealth & Philip Bloom Pocket Dolly as well as the traveler, 3′ & 5′ CineSlider.
Expected price: $399.95
Projected Availability: Mid to late summer"
…
See on vimeo.com